News from Zentiva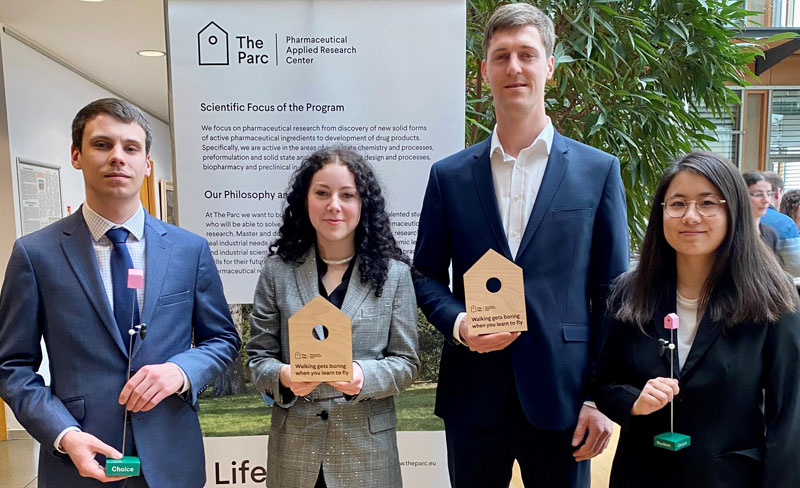 The number of promising young scientists is increasing, Zentiva has awarded them for the fifth time
Talented young scientists from the Center for Applied Pharmaceutical Research (The Parc), founded by Zentiva in cooperation with leading Czech universities, were honored with the annual Parc Awards. The ceremony was held under the auspices of Prof. Mgr. Jaroslav Miller, MA, Ph.D., Deputy Minister of Education, Youth and Sports of the Czech Republic. Students and their supervisors selected the best projects in the field of applied medical research and development. The Parc has grown over the past year, and 32 students are currently studying for an industrial doctorate there. In 2022, they published 22 scientific articles and presented 39 papers at conferences.
PhD students from The Parc were awarded The Parc Awards in two categories. In the Parc Student Award category, Thao Tranová won with the project "Orodispersible tablets prepared from spray-dried materials." The second student prize went to Martin Krov for his project "High-throughput development and continuous manufacturing of SMEDD systems", and the third prize went to Elizaveta Mutylo for her work "Programmable drug release from multi-unit dosage forms." In the second category, the Parc Supervisor Award, Ondřej Navrátil scored with his research on the topic "Programmable drug release from multi-unit pellet systems."
"Our students are very inventive and every year, thanks to the quality guidance of our university trainers and Zentiva experts, they come up with great works that have great potential to move the pharmaceutical industry forward. During the 4 years of The Parc's existence, we already have 37 graduates who are remarkably successful and find employment both in the Czech Republic and abroad," sums up Prof. František Štěpánek, Scientific Director of The Parc.
Industrial doctorates are on course
The education provided within The Parc is an example of a so-called industrial doctorate, where part of the study takes place on campus under the supervision of university staff and part directly in an industrial environment. It thus combines theoretical and practical education. "We are very pleased that industrial doctorates are receiving more attention in the Czech Republic. We have been promoting this idea for several years. In practice, we see that it is a very functional model. Part of the graduates find employment at Zentiva, and thanks to them, we are advancing our development of innovations so that we can bring more high-quality and affordable medicines to those who need them," says Pavel Šebek, Director of Research and Development at Zentiva.
There are currently 32 students and 34 supervisors involved in The Parc, of which 13 are from academia and 21 are experts from Zentiva. During the existence of the center, they have had more than 30 patents, more than 100 scientific publications and many prestigious awards. The start-up company MarbleMat, which was founded by one of the Parc graduates, was selected last year among the top 20 innovative start-up companies for the InnoStars Awards 2022 competition.